COVID HUB
Travel & Hostel updates and resources
What St Christopher's are doing to achieve a new standard of hostel cleanliness
New St Christopher's 8 Customer Contact Points, Deep Cleaning Schedule
We are adopting new measures throughout all of our hostels in order to preserve the highest standards of cleanliness and hygiene. As part of our commitment to providing the highest possible standard of cleanliness we will be adhering to a new 8 Customer Contact Points Deep Cleaning Schedule throughout all rooms and bathrooms. These 8 areas have been identified as the most frequently touched by guests such as light switches, door handles and bunk rails, and will be treated with extra disinfection.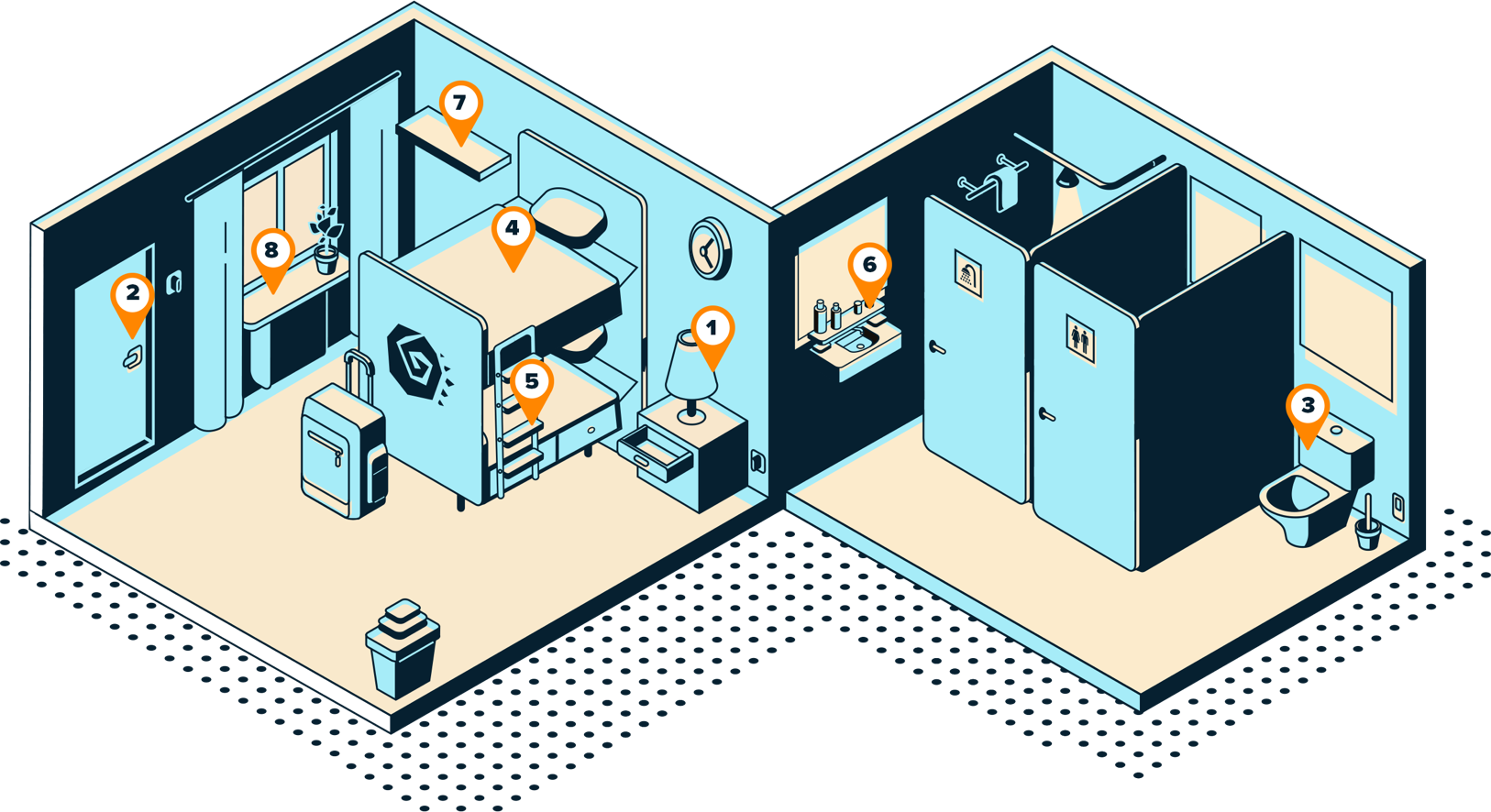 The New St Christopher's 8 Customer Contact Points, Deep Cleaning Schedule areas in guest rooms and private / shared bathrooms.
Switches
Main lights, bed lamps, switches and any controls

Handles and knobs
Doors, cupboards, under bed cages / storage

Major bathroom finishes
Toilet handles and seat, splash walls, showers/tubs and sink faucets

Bedding
All bed linens include duvet covers, pillowcases and sheets

Beds
All hard surfaces, rails and ladders will be disinfected, and curtains sprayed

Bathroom amenities
Bulk dispensers, individual amenities and hair dryers

Hard surfaces
Tables, desks and shelves

In room food and beverage trays
Cutlery, glassware kettle and trays
Throughout the new cleaning process, hostel team members will be provided with personal protective equipment and enhanced training designed to protect their well-being while continuing to deliver the authentic St Christopher's experience.
Inclusive of this New St Christopher's 8 Customer Contact Points, Deep Cleaning Schedule, we are also taking extra measures to ensure the uttermost hygiene, cleanliness and reduction of physical customer contact throughout your stay including:
Removal of Clutter: Removal of paper literature and guest directories throughout our Hostels and Bars; supplementing with digital or available upon request at our receptions and bars.
Focus on Communal Area: Revised guidelines for disinfecting the communal areas inclusive of chill out rooms, shared bathrooms, high traffic corridors. These may possibly close for cleaning multiple times daily, limiting the number of guests allowed in at one time.
Just Keep Cleaning: Increase the frequency of disinfection of public areas and other customer contact points including all Door Handles, Hard Surfaces, Grab Rails, Lift Buttons and Call Points, Lockers and Touch Screens, Room Keys and Card Machines.
Guest Sanitisation: Providing sanitization stations at entrances and high traffic areas, to encourage all guests to practice best hygiene standards.
Contactless Check-In: Encouraging guests to provide all details required for check-in ahead of arrival, as well as paying remaining balances and subsidiary services such as towel rental, tours, food and drink via contactless payment.
New Technologies: We are also exploring the addition of new technologies such as contactless locks, digital check in literature and other disinfection measures as part of our longer term product.